Regular price
$599.00 USD
Regular price
$599.00 USD
Sale price
$599.00 USD
Unit price
per
Sale
Sold out

About the Item
The WingFlex WF630 is an affordable durable grow light bar design for both commercial large scale grows and small scale home grows, WingFlex is versatile, compact, and easy to install in any grow conditions.
The heavy-duty heatsink comes with micro-reflector makes the lighting more concentrated.
The WingFlex WF630 LED Grow Bar Light is folded by 180° easily.
This design helps us do easier shipment packing, and you can store it easier.
Compact LED Grow Light with No Moving Parts
WingFlex 630W is an all in one design grow bar light, comes with built-in durable power suppliers and no moving parts.
Technical Information
Model No.

WF630

Power Draw

630W

Size

1060mm (L) x 1060mm (W) X 45mm (H)

Hps Equivalent

1500W

LED Source

Top-Bin

Samsung LED

Mounting Height

12"-36" Above Canopy

Lighting Coverage

Veg 6'X6', Bloom 5'X5'

Power Supply

Build-in UL Driver

Input Voltage

Autosensing 90-305V

Dimming

Manual & Rj11 Control

Diodes

Samsung LM281B 3000K 660PCS + 5000K 660PCS + RED 660nm 264PCS + UV 395nm 24PCS + IR 730nm 24PCS

Par Efficiency

2.8 μmol/j

PPF

1764 μmol/s

IP Rating

IP65

Package Includes

1 x WF630 Grow Light Bar, 1 x 6ft Power Cord, 2 x Hangers with carabiners, 2 x Yoyo Hangers, 1 x RJ11 Cable, 1 x User Manual

Cooling System

Passive

Operating Temp

20°c ~ 40°c (-4°f ~ 104°f)

Lifetime

> 100,000

hrs
External Total Control from 0% to 100%
WingFlex WF630 LED Grow Bar Light is dimmable and distributes broad, full-spectrum light anywhere from 0% to 100% while maintaining efficiency.
Dimmable LED Grow Light creates ideal lighting levels as needs change from veg to bloom for various crops throughout their growth cycles.
Our controller and the RJ11 connection make it easy for growers to handle any large grow operations.
Or you can simply dim the lighting manually from 0-100% with the dimmer knob.
High-intensity Focused LED Grow Light with Micro-Reflector
Each light bar sits beneath its own micro-reflector, helping to channel photons towards the canopy with greater focus intensity. No need for efficiency-sapping lenses.
WingFlex 630W LED grow bar features an outstanding uniform level of PPFD coverage for better canopy penetration!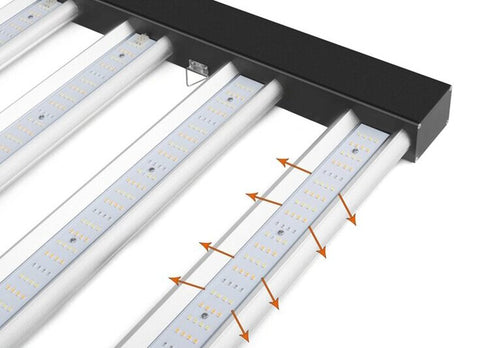 Full Spectrum with UV & IR Enhancers
The full spectrum with UV and IR enhancers make growers can produce stockier, more disease resistant mothers and juvenile plants, reduce stretch during transition, and increase biomass and essential oil production in flower.  
Using Top-bin Samsung white LEDs and Epistar or Osram ssl80 (incl. White Blend 3000k & 5000k, 660nm red, 730nm IR and 395nm UV).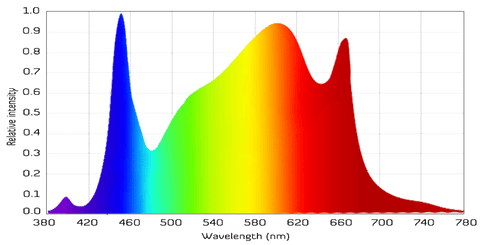 PAR readings (PPFD)
The PPFD is a crucial factor for growing lights. Only those reaching the plant surface and being absorbed by is effective to your crops.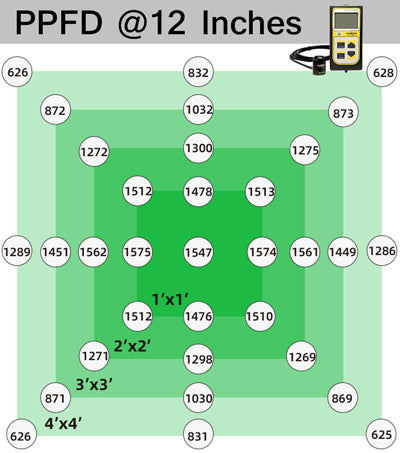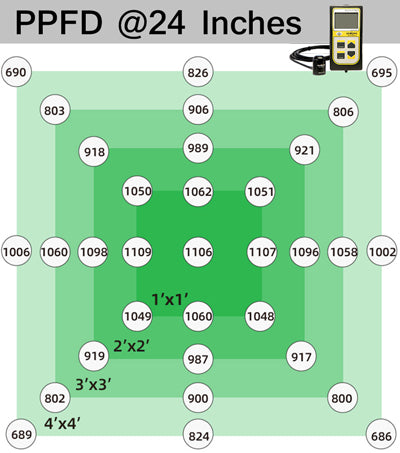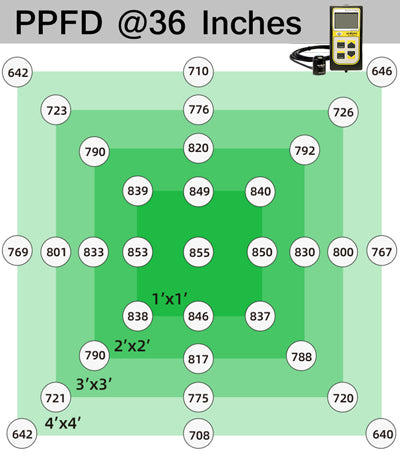 Share
View full details