Regular price
$679.00 USD
Regular price
$0.00 USD
Sale price
$679.00 USD
Unit price
per
Sale
Sold out
ParfactWorks WF840 - 840W LED Grow Light
The ParfactWorks WF840 LED Grow Light is versatile, compact and easy to install in virtually any grow space. The reflective cup design concentrates the Top-Bin Samsung LEDs for a powerful and even spread of full spectrum light.
The WF840 light is flexible and efficient, with dimming capabilities from 0% - 100% to help optimize the perfect level for your plants throughout their growth cycles. Connect up to 50 fixtures using daisy chained splitters and a ParfactWorks master controller.
---
Top-Shelf Components
The WF840 is manufactured using industrial grade processes with top bin hot-selling Samsung & Epistar Red 660nm diodes and a UL certified driver.
---
Even Light Coverage
The WF840 is a reliable light for all your indoor growing needs. Its 8-bar configuration allows you to mount this fixture in low rooms, over rolling benches, in grow tents, or even on vertical racks! It's been designed to produce even level of photosynthetic flux density (PPFD), but for optimum uniformity hang the light 24" - 36" above the canopy.
---
Externally Controllable
Connect up to 50 of these powerful fixtures using the ParfactWorks master controller and daisy-chained splitters. With this setup you can dim its broad, full-spectrum light anywhere from 0% to 100% while maintaining efficiency and delivering ideal lighting levels to your plants as their needs change through the growth cycles, from veg to flower.
---
Upgraded Full Spectrum Light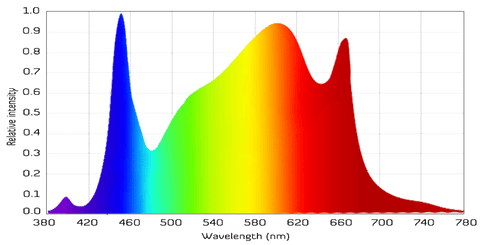 Idea for all growth stages- from veg to bloom. mixed with white, blue, red and UV,IR LED (3000K, 5000K, 660nm and IR 730nm & 395nm UV)
---
Increased Yields and Quality
With the WF840 you can expect yields on average up to 2.5 g/w and overall crop quality compared to traditional blurple and HPS lights. 
---
No Removable Driver & Fanless Design
The WF840's fanless design eliminates fan noise, moving parts that can fail, and offers optimal heat dissipation from its thick 2.8 Inch (70mm) aluminum heatsink. The all in one design's build-in driver saves install time and labor costs. 
---
Waterproof IP65 Rated
Its IP65 waterproof rating takes the worry out of growing in high humidity environments.
---
180 Degree Foldable Design
The WF840's slim design is also foldable up to 180 degrees, making it small, compact, easy to install, take down, and store. Recommended for home, commercial grows, grow rooms, and grow tents.
---
What's Included
(1x) WF840 Grow Light Bar
(1x) 6ft Power Cord
(2x) Hangers with carabiners
(2x) Adjustable Yoyo Hangers
(1x) RJ11 Cable
(1x) User Manual
---
PAR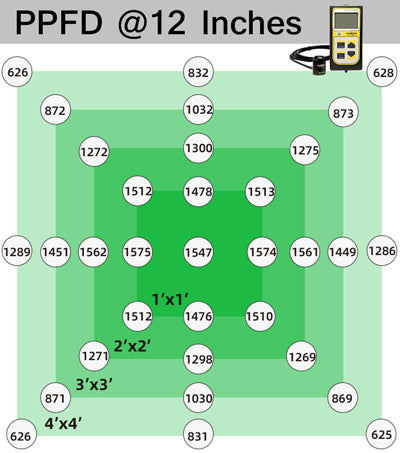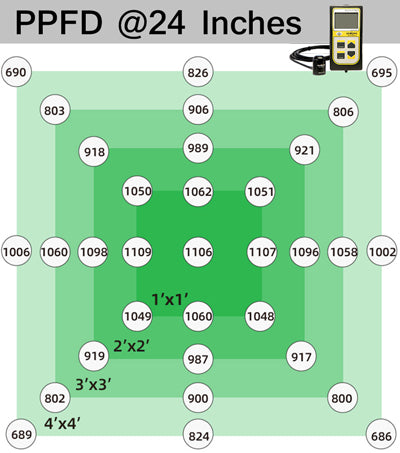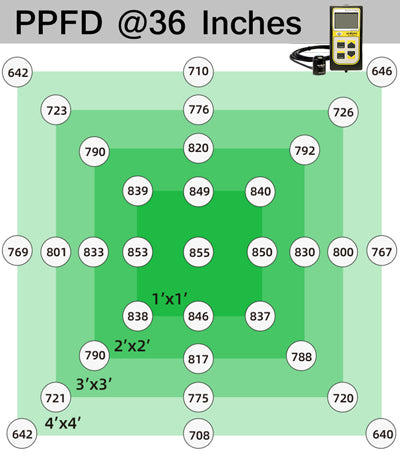 ---
ParfactWorks WF840 Features
LED Qty: 2176 pcs
Emitting Color: 3000K/5000K - Red 660bn - UV 395nm/IR730nm
LED Source: Top-Bin Samsung LED
Par Efficiency: 2.8 umol/j
Driver: Built-in Infinex UL Drivers
Input Voltage: Auto-sensing 90-305V
Thermal Management: Passing cooling
IR Rating: IP65 Waterproof
Dimming: 1 Manual Dimmer & RJ11 Controller (Sold Separately)
Operating Temperature: -20C to 40C (-4F to 104F)
Lifetime: >100,000 hours
---
ParfactWorks WF840 Specifications
Veg Footprint
7' x 7'
Flower Footprint
6' x 6'

 

 

Power

 

840 watts

 

Spectrum
Full
Light Output
2345 umol/s
HID/HPS Equivalent
2000 watt
Recommended Height
18" - 36" above canopy
Dimensions
42" x 42" x 1.77"
Manufacturer's Warranty
5 years
Share
View full details